PHUFFY Coin
The future is for everyone - and you can help shape it.
LIDO Nation mints and distributes PHUFFY coin as a perk for our delegators. Using PHUFFY coin, delegators like you direct our pool's charitable giving.
Blockchain technology creates new opportunities for decentralized decision-making, shared power - and shared responsibility. PHUFFY Coin is free to use, and is a fun way to learn about blockchain concepts like wallets, addresses, NFTs and more.
All while doing some actual good in the world!
How to participate
Delegate your ADA to the LIDO Nation staking pool!
There is no cost to stake - in fact your delegation earns passive rewards every time our pool mints a block on the Cardano network.
Stake with LIDO
We're excited you're considering delegating with us!
Learn about Delegation on Cardano
Rewards for Everyone
Cardano rewards participants, decentralizes power and secures transactions using a network of computer nodes, called Staking Pools.
Unlike First Generation blockchain networks that use a "proof-of-work" protocol, which require massive computers and vast resources, proof-of-stake networks use the native currency to secure the network efficiently.
The Network
The Cardano "Network" is just that: a network of connected computer nodes. Each node is maintained by a stake pool operator.
When there are transactions on the network, a node is randomly selected to validate them on the blockchain. Sharing responsibilities removes the need to trust a central authority.
The Pools
Pool operators are rewarded for the work they do to run the network.
At the end of each "Epoch" (5 days), pools that were selected to mint a block receive ADA as a reward.
Staking
Not everyone wants to participate by running and maintaining a computer server.
This is where staking comes in: you can delegate your ADA to a pool. This is where staking comes in: you can delegate your ADA to a pool. Then, when that pool gets rewarded, you get paid too.
Staking is no-risk and all reward.
You can spend, trade, or use your ADA whenever you want to. While your ADA is staked, you are eligible to earn rewards.
Staked Cardano earns about 5.5% annually in rewards.
You're ready to delegate your stake!
Congratulations on taking a big step towards a future that works for you too!
Wallet Selection
What Wallet are you Using?
Wallet Delegation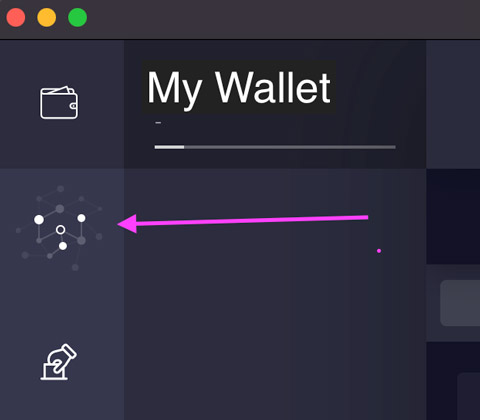 Go to the delegation tab on the left
If you only recently setup Daedalus or hasn't started it for a while, the Delegation tab may not load while your wallet is syncing up with the blockchain.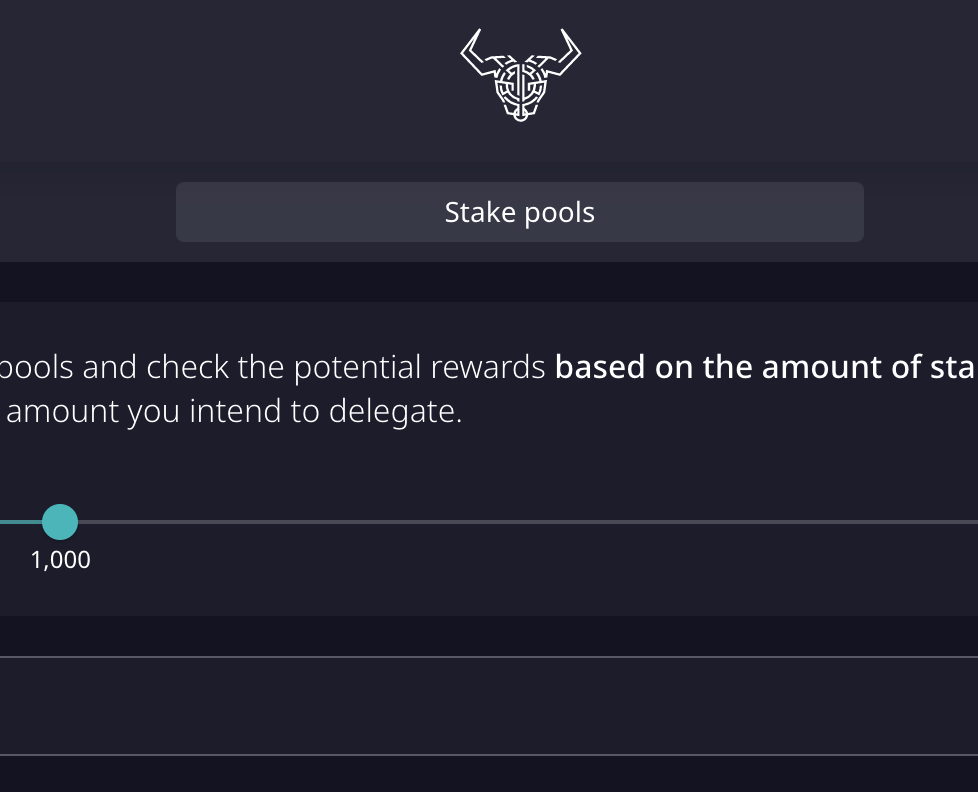 Click on the middle 'Stake Pools' tab on the top
You must have atleast 3 ADA to delegate.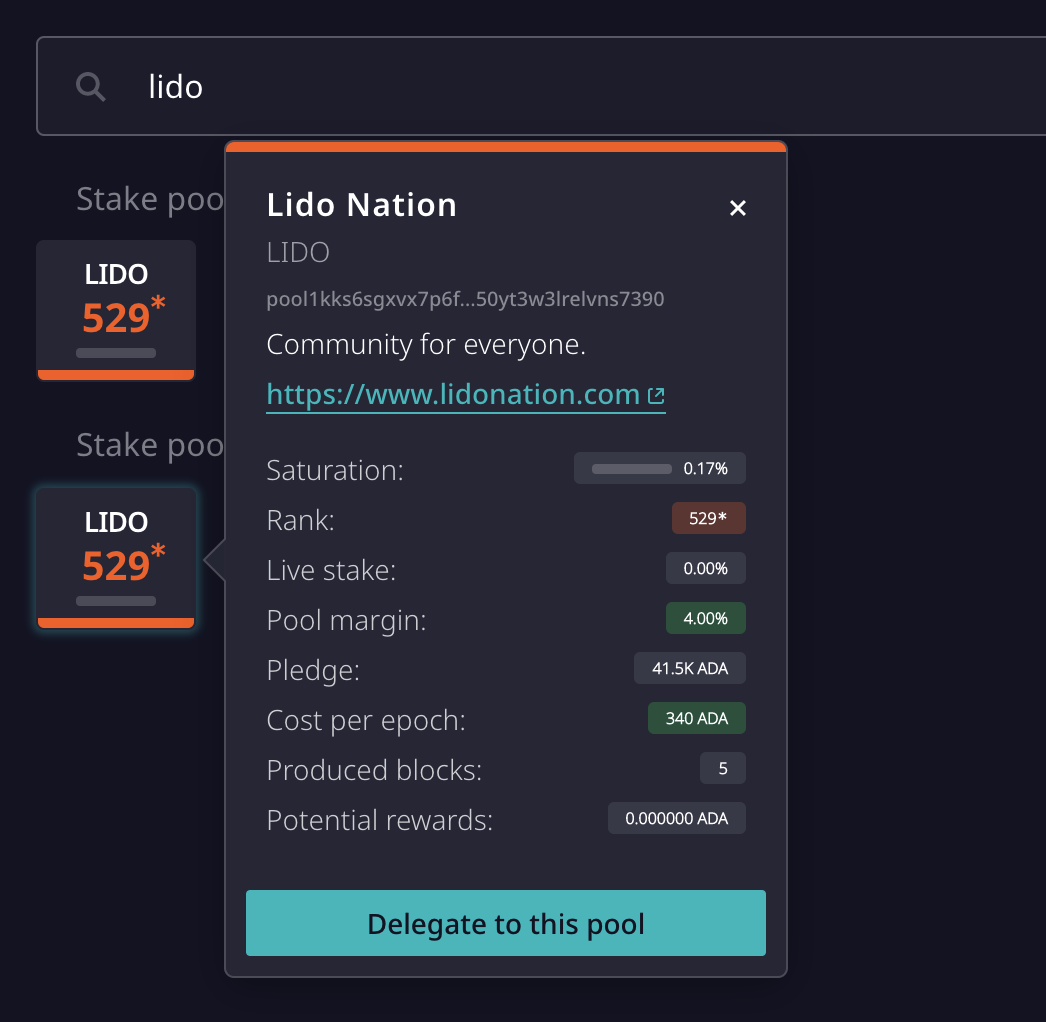 Search for LIDO in the search field
Click on 'LIDO', then the 'Delegate to this pool button'
Wallet Delegation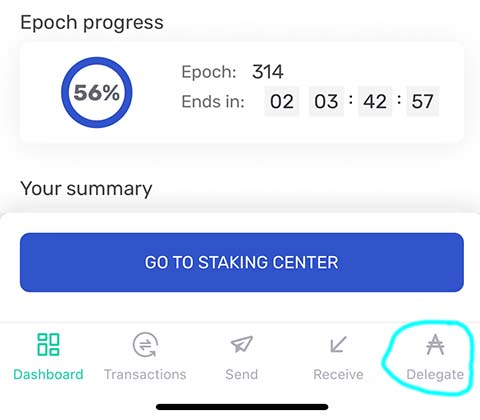 Go to the delegate tab
On the browser extension, the tab is "Delegation List." It's just "Delegate" on the mobile apps. The blue "Go to Staking Center" button, if you have it, will also take you were you need to be.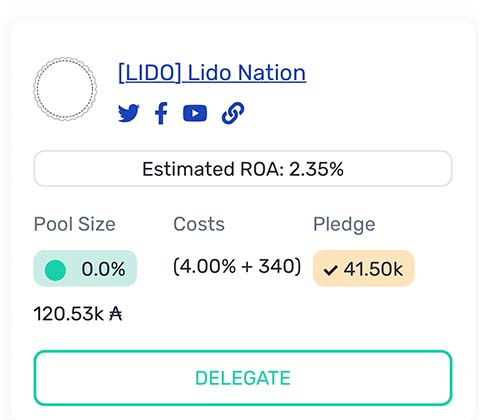 Search for
lido
Scroll down and click the "Delegate" button under "[LIDO] Lido Nation."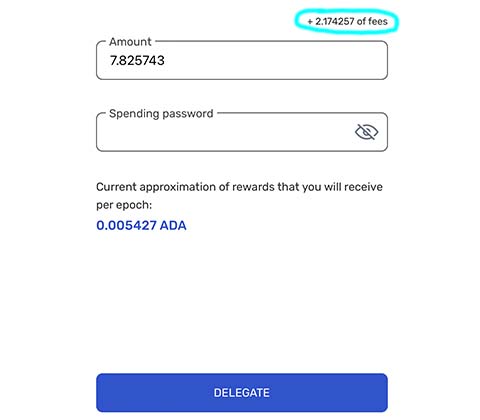 Enter Password and Delegate
Enter spending password, then press the "Delegate" button to confirm. If delegating for the first time, the 2ADA will be locked up, and 0.174257 ADA will be spent cover the transaction fee. If you ever undelegate, you will get your 2 ADA back.
Wallet Delegation Complete!
Welcome to
LIDO Nation!
It will take a few minutes for delegation to make its way around the world. Then 10 days before you see rewards from LIDO!
Registration is a 1-time process where we validate your stake in the LIDO nation pool.
Simply send 1.681A to a secure address.
You will get your money back, plus the processing fee, and a LIDO NFT!
Validate wallet
When we mint blocks you get:
1) your normal ADA rewards
PLUS
2) PHUFFY Coins!
You don't have to do anything to get new PHUFFY, they will be automatically added to your wallet.
View your balance
With 5M PHUFFY or more you can vote for a cause. We will refund any transaction fees when you vote.
Enjoy that phuzzy feeling of doing good.
Current Causes
GET EXCITED: You are here in time for the launch of PHUFFY Coin.
To be included in the first round of PHUFFY Coin distribution, note the following dates:
Stake to the LIDO pool by Jan 1, 2022
Register and Validate your delegation by Jan 12, 2022
PHUFFY will be distributed before voting opens on Jan 15, 2022.
After Jan 1, new delegators can join anytime and will get PHUFFY whenever LIDO mints a block. Launch participants will just get a little more PHUFFY right away - we've been saving some PHUFFY just for you!
Current Causes
winner will be declared
---
Give Well Maximum Impact Fund

Vote

When we receive a donation designated for the Maximum Impact Fund, we grant 100% of the value of the donation (minus any fees charged by payment processors) to the charity or charities that the research team recommends at the end…

昂路之友为家庭受艾滋病毒/艾滋病影响的内罗毕贫困儿童提供教育和支持,帮助他们改变生活。 该计划寻找有能力但没有手段的孩子。 入学儿童人数迅速增加。 2007 年 1 月开学时,已经招募了 60 名赞助商,相应的 60 名儿童已经支付了校服、鞋子和学费。 我们现在支持超过 368 名学生,其中许多在等候名单上。

Art Buddies pairs kind adults with children from the Twin Cities highest needs schools for creative one-to-one mentorship programs.
- / 10
Participating / Eligible
Wallet
- / 100M
Participating / Eligible
PHUFFY
Voting activity stream coming soon
These great causes received donations from LIDO Nation because this community earned PHUFFY and used it to vote for a better tomorrow!
First winner Coming April 2022
your favorite cause here!
How does it work?
What is phuffycoin?

PHUFFY Coin is a LIDO Nation Labs community project. It's a voting token used to make crowd sourcing decisions about charitable giving. By using blockchain technology, the voting system is transparent, auditable and easy.

How does PHUFFY get created?

At the end of an epoch, half of LIDO pool margin is used to mint PHUFFY coins for charitable giving. PHUFFY are delivered directly from mint to delegation wallets. The PHUFFY you hold is worth ADA, when you vote for your favorite cause, you are both saying that you want your cause to receive our funding as well as saying an amount you controll for them receive.

How much PHUFFY do I get?

How much 1 PHUFFY worth?

PHUFFY coin is only used to direct charitable giving. It is a voting token that represents real value on the Cardano blockchain. LIDO Nation sets aside HALF of our pool's earnings for charitable giving, and then we give it to our delegators to direct that giving. It is not possible to cash out PHUFFY coin.   For the techies: PHUFFY coin is wrapped lovelaces. A lovelace is the smallest unit of accounting in Cardano. 1 Million lovelaces = 1 ADA. By using wrapped lovelaces to fuel our giving engine, we can provide tracking, transparency, auditability, and pin point accuracy.   When you use PHUFFY coin to vote and your cause wins, the PHUFFY coin gets burned, and the equivalent amount of ADA is cashed out and donated to your cause.

Where can I buy PHUFFY coin?

PHUFFY Coin is not listed on any exchanges. PHUFFY is not designed to be traded or hodled. The only way to get PHUFFY is to join a community that is using it to organize decentralized charitable giving.

Is PHUFFY Coin only for LIDO Delegates?

PHUFFY coin was born at LIDO Nation, and for now it lives here. PHUFFY Coin is working with other dreamers and builders to bring it to to other stake pools and communities.. Check out PHUFFY coin roadmap for more details.

Why is it named PHUFFY?

LIDO Nation started with two people shooting the breeze. Darlington is a blockchain expert and creative whiz. Stephanie, known affectionately to friends as Phuffy, is a total newcomer with lots of questions. During one early conversation, Darlington tried to explain how it all worked by giving a fun, silly example: "You could make a PHUFFY coin!"   Soon after that, LIDO Nation was born. It's a great place for newcomers to ask questions and learn from blockchain experts. And we made a PHUFFY coin!
Transparency
Until we deploy smart contracts, here's how you can follow our accounts on the Cardano blockchain.
Treasurer
The treasury holds locked lovelaces that has equivalent PHUFFY minted and distributed.
Treasurer Wallet
In Circulation
100M PHUFFY
Address:
addr1v8q25696zlsq5f6z8t247hx9s3dlr7835w7he4ksy8vlgpq4r8q90
01/18 20:29

100

ADA

Block:

6772942

07/10 03:50

2

ADA

Block:

9010050
Governor
The Governor only holds PHUFFY (and required minimum ADA). When votes are cast, they go here.
Governor Wallet
Address:
addr1v9z342ztfv48tc9gg6zq096kw8ef75kmgdclnaeqkzekzksqwhrp3
Escrow
Where redeemed lovelaces go when cause wins in a campaign and related PHUFFY is burned. Last step before transferred to winning cause.
Escrow Wallet
Address:
addr1v930e8e2nqvynvhw7jmz5lj9g8fyfeap5m580qzrfgh0pcsagpgdr